Pin It
We bought this run of the mill, laminated number right after we moved into our house. We didn't have anything to put the TV on in the master bedroom.
The horror.
So we moved in and I was in a hurry. Sue me.
And this was WAY before my DIYing/GW fixin' days. Not a completely awful purchase, right?
Okay, so maybe a little awful.
Blah.
I've been looking high and low for just the right piece to replace it, but no luck. I decided to work with what we had and spruce up the beast. I figured if I screwed it up, it couldn't look any worse.
I started off by removing the spring loaded glass doors.
* Queue the Rustoleum Painter's Touch! Yes, I'm a black paint addict these days. *
After a light sanding, I gave the entire piece one coat of spray primer and two coats of black paint. (Basically used the same
tips
and
tricks
from previous projects.)
Oh and I also decided to dress the ol' gal up a bit with these…
If you're wondering, what the heck is going on in the above picture, here's a tip: I made holes in the bottom of this box, stuck the new soon-to-be-legs of my TV stand in the holes and painted away. Worked out really well!
To attach the legs, I used these leg plates that I found (conveniently!) next to the wooden legs at HD.
Marked the screw holes, pre-drilled the holes…
…and attached the legs.
Only one minor boo boo in this process…
I got a little wild with the pre-drilling and went all the way through! Oops! Easily fixed and repainted.
And finally, she was a brand new-to-us TV stand!
I really loved the way it turned out. For very little money and effort we have a new piece of furniture using something I was wanting to put out at the curb!
Dumpster diving within your own house…that's how we roll.
Check it out!!! $75 Gift Certificate!!!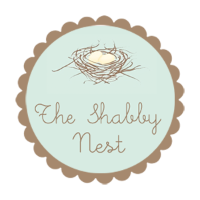 Pin It