Pin It
My dad and mom follow my blog. Isn't that cute?
After my
end table redo
for the lil' bro, my dad told me that he had a few pieces in his basement. Shopping for freebies in dad's basement I went.
And I stumbled upon this little table…
It had seen better days and was missing part of its leg.
Or would that be its foot?? Dunno.
Either way, I found a little place in my DIY heart for it.
I started out with a little sanding and fixing the foot/leg thingy with Gorilla Glue.
It's not perfect, but it sturdy and it will be hidden on the side of my couch. All good.
Next, I obviously used a whole LOT of Rustoleum's Heirloom White spray paint. Then, I distressed it a bit with fine grit sandpaper.
After that, I wanted to add something fun to the top.
My first thought was just to use a colorful paper on part of it. Using Mod Podge, I added this cheery yellow paper to the center of the table top.
Then I thought about where I wanted to use the table, which is in our family room near our mini "library". Derek and I are book hoarders.
I sacrificed an old paperback copy of the original Wizard Of Oz.
Did you see that? She actually cried about it. Sorry Dorothy.
Again, I used Mod Podge to attach the strips of book pages to both ends of the table top. After it all dried, I lightly sanded the edges of the table to remove any excess paper and then applied two coats of Mod Podge over the entire top to seal it all in.
And last, but not least, I sprayed the top with a few coats of clear acrylic since the table will be used for beverages now and then. Mod Podge does NOT like HOT beverages.
So what do you think? Totally new life to a cute table or death of a great book?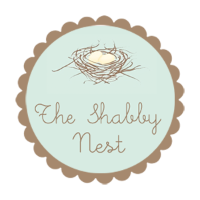 Pin It